Aerating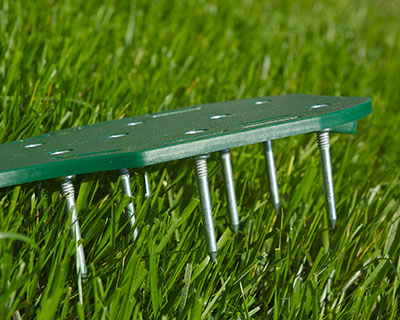 Most landscapes have lawns on them and they are part and parcel of both residential and commercial outdoor spaces. If you have a lawn on your property, you know exactly how much trouble goes into caring for it and maintaining it well.
Over time, the weather and regular wear and tear take their toll and you may begin to notice that the lawns have developed bare or brown patches in different areas. The one way to avoid all this and ensure your lawn stays looking beautiful and is healthy at all times is to hire the services of a company like ours for regular lawn maintenance. Aeration is a very important aspect of our lawn maintenance services.
We at Nature Bros Landscape Maintenance have been providing custom landscape maintenance services to clients in and around Turner, Salem, and Keizer. Over the years, we have built a very solid presence in this region of Oregon as a professional landscape maintenance company.
The Effects of Soil Compaction on Lawns
When any lawn space sees regular use, mowing and watering etc. the soil tends to become compacted over time and it constricts grass growth. The fertilizers and water in the soil is unable to reach the roots and if this problem is left unaddressed, it can affect lawn health and cause brown or bare patches to show up. We carry out core aeration during fall, and aerovating services when the weather is much drier. There are a number of benefits to lawn aeration, such as:
Enhanced water intake
Improved exchange of air between the atmosphere and the soil
Improved fertilizer absorption
Enhanced thatch breakdown
Reduced puddling
Less runoff
Stronger grass roots
Enhanced tolerance to heat & drought stress
Improved cushioning and resiliency
Customized Lawn Aeration Services
With years of experience behind us, we know what it takes to provide excellent turf aeration services. Regardless of the size of your lawn and the type of grass growing there, we are the experts that can provide you the solutions you need. We have a team of expert and highly-experienced lawn care specialists that follow well-researched and proven aeration techniques to ensure your lawns are healthy and that they look great right round the year.
Custom Aeration Plans
As an experienced and well-established company in this field we understand that every customer has specific needs and its why we customize our services. In most instances, aeration is part of a broader lawn maintenance regimen, but if you need to hire us only for aeration of your lawn spaces, we can provide those services too.
Our experts work methodically and in a detailed manner, so that every inch of your lawn space is thoroughly aerated. If you are looking for reliable and high-quality aeration solutions, you need look no further than Nature Bros Landscape Maintenance.
We are the experts that work diligently, design customized plans and services to cater to your specific requirements. For any more information on our services and landscape maintenance cost, feel free to call us at 503-602- 3116 and discuss your project details with us. You can also send queries via this online form.