Pavers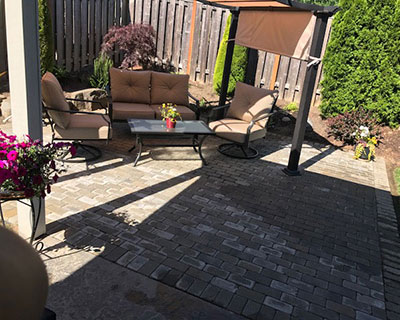 Most of the outdoor spaces on your property are exposed to the elements. Features such as your driveway, walkways, pathways, decks, and patios as well as poolscape areas tend to see a significant amount of wear and tear over time. Even aspects such as climatic changes or poor maintenance can take their toll on these surfaces, making them look dated and drab before their time.
One of the best ways to make sure that your outdoor spaces look stunning and last for a number of years, with minimal maintenance is to opt for the right type of materials such as pavers. These are available in a range of colors and designs and can complement the look of any outdoor area on your property.
We at Nature Bros Landscape Maintenance can cater to all your paver design and installation needs. As a company that has over 10 years of experience in this industry, we have the skills, expertise, and resources required to handle all types of natural stone paver installation jobs.
Types of Paver Installations
Creating superb paved patios on properties in and around Salem, Turner, and Keizer, OR, has been a matter of pride for us. The range of paver installation jobs we can handle include:
Concrete Pavers
Pavers made of concrete are extremely resilient and durable. They are available in a variety of shapes, sizes, styles, textures, and colors. We can use these units to create different designs and patterns in various outdoor areas of your property such as patios, decks, driveways or walkways. Poorly installed pavers can sink or shift resulting in accidents, and can also mar the look of your landscape. When we handle concrete paver installation on your residential property, you can rest assured that the work will be completed using top quality materials and craftsmanship.
Brick Pavers
Brick has an undying appeal and complements the look of different types of landscaping concepts and themes. Its rustic appeal lends a very unique and appealing look to the outdoor spaces. Today, you can choose from brick pavers of different colors and designs apart from the standard rust red. We handle brick paver installation expertly and ensure that every unit is pieced and fit in perfectly. Edge restraints will be installed to keep the individual units in place, ensuring the stability and integrity of the feature.
Interlocking Pavers
Pavers are individual units installed to cover the open spaces in a landscape. Interlocking pavers can be used to create a very stable and strong surface in any yard or garden area on your property. We use the best quality concrete interlocking pavers in our work, ensuring that the installation will last for a number of years. These features are very low maintenance and cost-effective as well. Our team of designers will work closely on the project to ensure that the final product is exactly how you envisioned it to be.
If you are looking for the best quality, resilient paver features in your landscape, speak with our expert team today. For any more information about paver cost and the other services we provide, feel free to contact Nature Bros Landscape Maintenance at 503-602-3116. You can also connect with our team via this Contact Us form.