Mowing and Trimming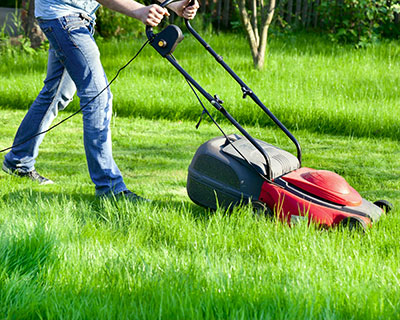 While the lawn spaces on your property create a very fresh and green look in the landscape setting, maintaining these features is about ensuring that the grass is mowed with regularity. Mowing can become a very tiresome and time-consuming task, especially if you have vast lawn areas and you will find yourself spending hours on the weekends trying to keep your lawn well-manicured.
But lawn mowing isn't something that can be ignored and the best way to ensure that it gets done with regularity is to hire the services of professionals to handle it. We at Nature Bros Landscape Maintenance have been providing custom lawn mowing and trimming services to clients in and around Turner, Salem, and Keizer.
The Benefits Of Professional Lawn Mowing Services
Appearance - One of the very first things people notice when they visit your home is the landscaped areas and the front lawn is one of the features here. An unkempt and ill-maintained lawn will only mar the appearance of your property, but regular professional lawn mowing and care help maintain its appearance.


Healthy Grass - Healthy lawns are able to weather the elements better, and the health of your grasses depends on whether it's fertilized and aerated well. De-weeding and mowing are equally important aspects of overall lawn maintenance and care. When grass trimming is performed with regularity, it encourages new growth and keeps pests away as well which keeps your grass healthy at all times.


Fertilization - When our landscape maintenance experts mow your lawns, they leave some grass bits lying around in the soil which acts like organic manure as it composts very quickly. It proves beneficial to the growth of the grass and complements the fertilizers you use for it.
Regular turf mowing provides cumulative benefits. When you get your lawn grass trimmed with regularity, the grass grows in resilience and strength every time it is mowed which improves its aesthetics as well.
Custom Lawn Mowing Plans
We are a company that provides excellent custom lawn mowing and trimming packages to our customers. Every lawn is different in terms of size, the type of grass etc. and it's why we always offer tailored services that provide you value for money. We use the latest powered mowing equipment in our work, but the grass that grows along the edges of the lawn or in odd-shaped spots of the lawn will be manually trimmed. This means all your lawn spaces will have a well-manicured look at all times.
If you are looking for reliable and high-quality lawn care solutions, you need look no further than Nature Bros Landscape Maintenance. We are the experts that work diligently, design customized plans and services to cater to your specific requirements. For any more information on our services and lawn mowing cost, feel free to call us at 503-602- 3116 and discuss your project details with us. You can also send queries via this online form.