Outdoor Living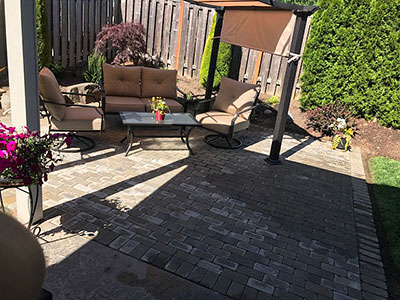 The outdoor living trend is on the rise. Residential property owners are now becoming more aware of the fact that having well-designed outdoor living areas is one of the best ways to get an excellent return on investment. There are a number of different features that can be installed in your garden or yard spaces to increase their usability and appeal. Installations of structures such as pavilions, pergolas etc require creativity, skill and experience.

We at Nature Bros Landscape Maintenance can handle all your outdoor living design and installation needs. As a company that has over 10 years of experience in this industry, we have the skills, expertise and resources required to handle all types of landscaping jobs.

Constructing custom pergolas on properties in and around Salem, Turner, and Keizer, OR, has been a matter of pride for us. Over the years, word of our expertise has spread throughout the local regions and we have gained a reputation for excellence in landscape maintenance services.


Custom Outdoor Living Features
If you are looking for the best quality, resilient outdoor features speak with our expert team today. The different types of outdoor living features we install include:


Pergolas
A pergola is a very simple structure that is made up of four columns with a grid like structure above it. This feature can be installed in any area of your landscape. It can be a standalone structure or extend out from the exterior walls of your home onto areas such as patios and decks. Over the years we have handled a large number of pergola installation projects. We can provide you with the kind of custom pergola designs you need. You can choose from wooden, vinyl or aluminum pergolas depending on your preferences and budget.


Pavilions
A pavilion is a very impressive garden structure that instantly becomes the focal point of a landscaped area. We can custom design this structure for you and it can be made of materials such as metal and wood. You can choose from pavilions of different shapes, sizes and styles. When we handle pavilion design and installation, you can rest assured that the structure will be built using the best quality weather-resistant materials and outstanding workmanship. Our experts work very closely with you in order to ensure that the pavilion plans are in sync with your requirement.


Patio Covers
While a patio is an excellent addition to your home, it is exposed to the elements, which limits its usability. If you want to enjoy leisurely moments on your patio without having to worry about the climate, it's a good idea to get a patio cover installed. You can choose from a variety of features including fixed, retractable or removable ones as well. Whether you want to install a patio cover on an existing pergola feature or need us to construct the framework for the cover, we can handle this job for you.

For any more information about pergola costs or the services we provide, feel free to contact Nature Bros Landscape Maintenance at 503-602-3116. You can also connect with our team via this Contact Us form.