Landscape Services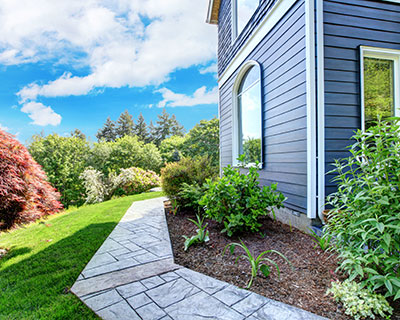 We at Nature Bros Landscape Maintenance have been providing custom landscape maintenance services to clients in and around Turner, Salem, and Keizer. Over the years, we have built a very solid reputation in the landscape maintenance industry. Our teams of highly trained experts can cater to all your lawn and landscape maintenance requirements. The wide varieties of solutions we offer include:
Weekly, Bi-Weekly, and Monthly Maintenance
There is a range of services that we cover in residential garden maintenance plans such as mowing, de-weeding, pest control, aeration, fertilization, etc. The plan we design for you will be based on the size of your property, the features and installations, your preferences and budget. We will take these requirements into account & ensure that the plan we design fits in perfectly with your budget as well. We use advanced equipment and techniques, non-toxic and environmentally friendly products in our work. Read More About Weekly, Bi-Weekly, and Monthly Maintenance >>
Mowing and Trimming
Regular lawn mowing provides a number of cumulative benefits. The healthiest and most resilient grass performs the best. When you get the lawn trimmed regularly it grows in strength each time it is mowed and this enhances the aesthetics of any property. We use commercial grade mowing equipment in our work but also trim all the difficult to reach areas and edges of the lawns manually. This meticulous approach helps ensure that your lawns stay looking healthy and green right around the year. Read More About Mowing and Trimming >>
Leaf Removal
Most trees have literally hundreds and thousands of leaves which they tend to shed in fall. In addition, the shrubs and bushes also shed a large number of leaves during this season. It's vital that you clear all the leaves from your property quickly because they can rot and impact the quality of your soil and these leaves laying around on your property also harbor insects. We carry out leaf removal very carefully and make sure that none of the other plants and shrubs come to any harm when the leaf removal machines are being used. Read More About Leaf Removal >>
Gutter Clearing
Gutter cleaning is a part of our standard landscape maintenance contracts. But we also provide stand alone landscape gutter cleaning services as required. Debris, dirt, leaves, and twigs become accumulated in gutters over time and this need to be cleaned out on time. Clogged gutters can result in pooling of water in different areas of your property; ruin your plantings and hardscaping as well. We provide excellent gutter cleaning solutions and make sure that all the drains are clear of these substances. Clear gutters allow the water to get directed to the main drains outside your property and this helps prevent pooling in your landscape. Read More About Gutter Clearing >>
Pressure Washing
Over time, moss, mildew, debris, dirt, soil, oil stains & regular wear and tear can affect the appearance of the hardscaped areas of your property and make it look dull and drab. The one way to prevent this from happening is to opt for regular power-washing services. We use commercial-grade pressure cleaning equipment that is very effective in cleaning the most stubborn dirt and stains from the masonry and paving elements on your property. We include pressure washing in our weekly, bi-monthly and monthly landscape maintenance contracts, but can also provide this as a separate service. Read More About Pressure Washing >>
Bark /Gravel Application
We provide high quality, reliable bark mulching as well as gravel applications solutions. Organic mulch that's made from the barks of different types of wood species proves to be highly beneficial to the landscaping. Mulching helps retain sufficient moisture in the soil and keeps your plants green and fresh. It also prevents soil hardening in the wintertime and keeps the soil cooler during the summer months. Gravel is an excellent material that can be used to surface areas such as driveways, pathways, and walkways. It is economical and looks great in any setting. We can also provide gravel topping and leveling service for existing gravel paths. Read More About Bark /Gravel Application >>
One Time Clean-Up
There are times when you want professionals to handle the cleanup of your yard spaces. While we do provide regular maintenance plans, we also offer one-time yard cleaning services. As part of these services, we will clean up all the leaves, debris and dirt will pressure-wash paved areas and hardscaping features etc. We can also remove dead, diseased or unwanted plant growth and keep the area clean. These one-time clean up services are great for times when you are throwing a big party and need the landscape clean and spruced-up in a hurry. Some clients also opt for these clean-ups when they are staging their house at the point of sale. Read More About One Time Clean-Up >>
Weed Control
We provide custom weed control plans that include pre-emergent weed control and post-emergent weed control solutions. In most instances, these treatments are done at the same time that fertilizer treatments are done. With regular and consistent de-weeding, you will find that your plants & lawns are healthy and that they grow healthier too. Most of our landscape maintenance solutions include de-weeding and we can provide this as a standalone service as well and will come and de-weed your lawn spaces and flower needs meticulously and efficiently. Our experts have the deep knowledge about the different types of weeds and the formulations we use will be dependent on the types of weeds growing on your property. Read More About Weed Control >>
Tree, Shrub and Flower Pruning
Overgrown shrubs and trees make your landscaping look unkempt and messy, and it also impacts the appearance of various other features and elements in the landscape. And this is why it becomes important to get all the hedges trimmed with regularity. Pruning not only improves the appearance of the plants and shrubs but encourages new growth as well. In addition to this, it reduces the amount of time and trouble you take for landscape maintenance because you will find that the plants and trees shed fewer twigs and leaves. Aside from this, regular flower and plant pruning also deter pest infestations and improves the overall health of your landscaping. Read More About Tree, Shrub and Flower Pruning >>
De-Thatching
In de-thatching, the upper layer of the dead grass tissues called thatch is removed. The layer affects your lawn growth and prevents proper absorption of nutrients and water from the soil. When you hire us for landscape maintenance services, we include de-thatching in the lawn care process. In some cases, we use manual rake while in others a power rake will be used to remove the thatch. If there is too much of thatch, we might also use core-aeration to make sure your lawns are dethatched properly. In case the soil is heavily compacted, core aeration may become part of the lawn de-thatching process as well. Read More About De-Thatching >>
Aerating
When lawns see regular use, watering, mowing etc. the soil becomes compacted over time and constricts the growth of the grass. This prevents the water and fertilizers from reaching the roots of the grass which hampers their growth. If this problem isn't addressed in time, it can result in brown or bare patches on your lawns. This is where aerating the soil helps and the loosened up soil is able to absorb all the nutrients properly, which gives you healthy and green lawns. Read More About Aerating >>
Over Seeding
Grass growth slows down significantly in fall as well as during winter season. But after that, as the temperatures begin to rise and the frost in the soil slowly starts to thaw, you will notice there is new grass& plant growth in your landscape. If you want your lawns to grow lush and green, it's a good idea to get the spaces over-seeded. This process needs to be completed every spring and before fall. It helps introduce new growth and prevents patchy lawn areas and ensures you have green and lush lawns on your property. Read More About Over Seeding >>
Moss Removal
If your lawns have poor drainage or are excessively shaded you might find a lot of moss growing in different areas of the garden. Once it takes root, moss growth is very quick and before long, large areas of the landscape will be covered with moss. This happens because of excessive compaction of soil, percolation, low fertility, high alkalinity or high acidity or even because of inadequate soil aeration. We have the expertise and training to remove the moss efficiently so your lawn is able to grow in an unhindered manner. Read More About Moss Removal >>
If you are looking for reliable and high-quality landscape maintenance solutions, you need look no further than Nature Bros Landscape Maintenance. We are the experts that work diligently, design customized plans and services to cater to your specific requirements. For any more information on our services and landscape maintenance cost, feel free to call us at 503-602- 3116 and discuss your project details with us. You can also send queries via this online form.