Weed Control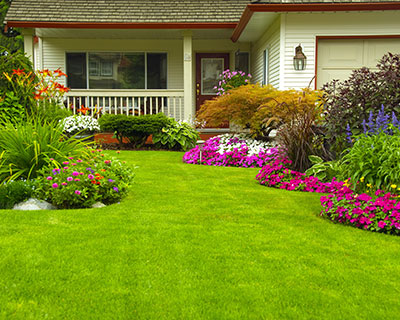 If you have landscaped areas on your property, there are bound to be some plants, trees, and shrubs there; and all of these require regular maintenance. Apart from the right type of watering schedule and fertilization, soil aeration, lawn mowing etc. it's also crucial to get weed control done. If you are managing most of your landscape maintenance yourself, you may find it very difficult to maintain the appropriate weed control schedules. When it comes to lawn maintenance, it's best to opt for a comprehensive lawn maintenance plan from a company like ours.
We at Nature Bros Landscape Maintenance have been providing custom landscape maintenance services to clients in and around Turner, Salem, and Keizer. Over the years, our company has built a very solid presence in this region of Oregon as a professional landscape maintenance company.
How Weeds Grow On Your Property
We understand the importance of keeping landscapes well-maintained at all times and our custom landscape care plans include weed control solutions. However, we can also provide weed control as a standalone service if that's what you need. De-weeding is a vital component of any landscape maintenance plan and we are very meticulous with carrying out this job.
Many weed seeds are airborne and once they settle on the lawns or any other soil-covered are in your yards, it doesn't take time for the weeds to overtake the garden. When you opt for our custom weed control services, our expert personnel will visit your property at the pre-decided intervals and meticulously remove all the weeds from the soil.
Why is Weed Control So Important?
Weed growth adds a very unkempt look to your property and causes significant harm to the grass and plants. They absorb the nutrients and water from the soil which hampers the growth of your softscaping. Our weed control plans include pre-emergent weed control as well as post-emergent weed control. These treatments are done alongside fertilizer treatments at different times of the year.
We use the latest techniques and equipment in our work and make sure it is completed efficiently and as per the pre-decided schedule. Our experts will use specialized weed control formulations based on the type of soils and plants that exist on your property; these treatments can be incorporated into your lawn management program. With regular de-weeding, you will find out that your lawns and plants are healthy and that there is a significant improvement in their growth rate as well.
If you are looking for reliable and high-quality lawn maintenance solutions, you need look no further than Nature Bros Landscape Maintenance. We are the experts that work diligently, design customized plans and services to cater to your specific requirements. For any more information on our services and de-weeding cost, feel free to call us at 503-602- 3116 and discuss your project details with us. You can also send queries via this online form.