Exterior Flooring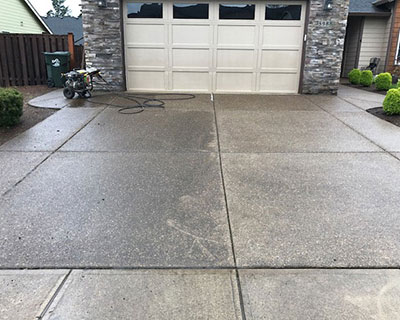 Outdoor spaces such as your driveway, paths, walkways, poolscape, deck and patio are exposed to the UV rays of the sun, climatic changes and foot and vehicular traffic. It's a little surprise then that these areas begin to deteriorate quickly and look dull. Installing strong and durable exterior flooring can help avoid all these problems. We at Nature Bros Landscape Maintenance can handle all your outdoor flooring installation needs.
As a company that has over 10 years of experience in this industry, we have the skills, expertise and resources required to handle all types of landscaping jobs. Creating stunning natural stone patios and pool decks on properties in and around Salem, Turner, and Keizer, OR, has been a matter of pride for us.
Types of Outdoor Flooring
If you are looking for the best quality, resilient exterior flooring features speak with our expert team today. The range of outdoor flooring solutions we provide include:
Concrete
Concrete is widely used in outdoor installations including flooring. We can provide excellent custom concrete flatwork for areas such as patios, decks, pool decks as well as entryways, driveways, pathways, courtyards and more. The common misconception is that concrete is a very dull and drab material. However we beg to differ. We have the ability, technology and the skill to provide outstanding concrete surfaces in different colors and hues. These can be finished using techniques such as stamping, etching, staining and a more. Whether you want a textured concrete patio or a smooth-finish concrete deck, we can provide you with the services you need.
Stone Pavers
Paver units are a great outdoor flooring option and are available in a wide variety of styles and textures. Natural stone has an undying charm and paver units made from stones such as flagstone, slate, travertine, bluestone etc. can add a distinctive look to your landscaping. We can install stone pavers in areas such as patios, decks, poolscapes, driveways, walkways as well as pathways etc. We use the best quality stone paving in our work and seasoned stone masons would handle the installation, ensuring the durability and longevity of the feature.
Natural Stone
Regardless of whether you want a casual or formal-styled landscape, natural stone can fit in perfectly well with the theme. We provide custom natural stone flooring installations based on your specific needs and the overall aesthetic of your landscape. You can choose from natural stones such as granite, marble, travertine, bluestone, flagstone or even slate and sandstone. Our team will work very closely with you to understand what your vision for your landscape is. Based on these discussions they will provide recommendations about which natural stone would look great in the outdoor spaces of your home. If you like, you can also opt for a mix and match of different materials to create a very unique look in your landscape.
Custom Exterior Flooring Solutions
Regardless of the type of exterior flooring you want, you can rest assured that we would handle the job to your 100% satisfaction. Our aim is to ensure that you are delighted by the services we offer. We have created our mark in this industry by designing and installing functional and appealing outdoor spaces on our client's properties.
For any more information about the outdoor flooring installation services we provide, feel free to contact Nature Bros Landscape Maintenance at 503-602-3116. You can also connect with our team via this Contact Us form.