Carpentry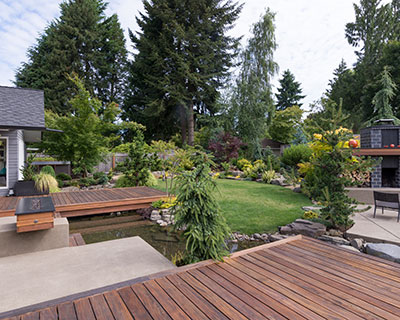 Every landscape has a number of different installations and features made using a variety of materials. The only way to achieve a well-balanced and cohesive look in the outdoor spaces of your home is to ensure that you include well designed outdoor features.
We at Nature Bros Landscape Maintenance can handle all your outdoor timber structure installation needs. As a company that has over 10 years of experience in this industry, we have all the skills, expertise and resources required to handle all types of outdoor carpentry jobs.
Creating beautiful outdoor wooden features on properties in and around Salem, Turner, and Keizer, OR, has been a matter of pride for us. If you are looking for the best quality, resilient custom wood structures for your landscape, speak with our expert team today. We provide a variety of services such as:
Fencing
Fencing is considered an essential aspect of most residential properties. Many homeowners get wooden fencing installed and these features lend a neat and organized look to the outdoor spaces. They provide safety and create a properly demarcated space in the outdoor areas of your home. There are different types of fences to choose from including ones made of pine or hardwoods such as mahogany, oak etc. The type of fence you choose will be entirely dependent on your personal preferences and budget.
Decks
Decks are a very popular feature in residential landscapes. While there are a large number of man-made decking products on the market today, wooden decks continue to be a favorite with homeowners across the region. When you hire us for your wooden deck installation job, you can rest assured that experienced and expert designers and installers will work on your project. You can choose from different hardwoods such as teak, mahogany, oak, Ipe and more. Since this feature will be custom designed for you, you get to choose everything from the size and shape and styling and more.
Patios
When it comes to patios, there are numerous styles to choose from. Some homeowners prefer a simple patio without any embellishments. On the other hand, some property owners want to create elaborate patio spaces that may include features such as barbecue grills, inbuilt seating as well as an outdoor kitchen or pergola etc. We have the ability to handle all types of carpentry jobs for patio installations. Our team of experts can design and build balustrades and railings, outdoor furniture and patio benches as well as pergolas for shade.
When we are designing and installing any type of custom woodwork for the outdoor spaces of your home, care is taken to ensure that only the best quality weather-resistant materials are used in the work. Seasoned carpenters that have the expertise to install all types of features would work on the project, ensuring that all the installations are perfect in design and extraordinary in finish.
For any more information about the services we provide and wooden decking cost, feel free to contact Nature Bros Landscape Maintenance at 503-602-3116. You can also connect with our team via this Contact Us form.