Pressure Washing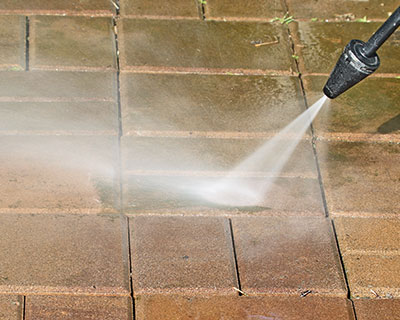 The outdoor areas of your home are exposed to the elements and tend to become dirty or covered with moss over time. The paved features such as driveways, pathways, walkways, porches, entranceways, as well as other masonry features such as boundary and retaining walls etc. need to be cleaned with regularity. While most property owners have pressure hoses that they occasionally use to keep these exterior areas clean, they don't always get the time to handle this task with regularity.
We at Nature Bros Landscape Maintenance have been providing custom landscape maintenance services to clients in and around Turner, Salem, and Keizer. Over the years, we have built a very solid presence in the lawn and landscape maintenance industry.
Custom Pressure Washing Solutions
We have the expertise and experience to handle the toughest pressure-cleaning jobs efficiently and professionally. Over time, moss & mildew growth, dust and debris, oil stains from standing vehicles as well as regular wear and tear take their toll and cause the various features on your property to start looking dull and drab. We use specialized, commercial-grade pressure washing equipment which is effective in cleaning the toughest dirt and stains from your property. In addition to cleaning concrete pavers, we can also clean all the other masonry and natural stone features in your landscape.
Pressure Cleaning – The Benefits
There are numerous benefits to getting regular landscape pressure washing done such as:
Removes the debris & accumulated dust from paved area and other surfaces.
Removes sap &oil stains in case there are any.
Regular pressure cleaning helps maintain the finish & color of the paved installations.
When the debris is removed from paver surface and joints, it adds to the integrity and durability of your paver joints.
Pressure-cleaned outdoor spaces add to the curb appeal and value of your property.
Pressure Cleaning Cost
We are the experts that always look to provide our customers value for money and while we maintain the highest levels of quality and efficiency, you will find that all our services are very competitively priced. Since we provide customized services, the cost of pressure cleaning will be dependent on the size and expanse of the area to be cleaned and the number of features there. If you prefer, we can also design yard pressure cleaning plans based on your specific needs. As part of these plans, our personnel will come in at fixed times of the year to wash all the outdoor spaces on your property.
If you are looking for reliable and high-quality landscape pressure cleaning solutions, you need look no further than Nature Bros Landscape Maintenance. We are the experts that work diligently, design customized plans and services to cater to your specific requirements. For any more information on our services and pressure cleaning cost, feel free to call us at 503-602- 3116 and discuss your project details with us. You can also send queries via this online form.