Retaining Walls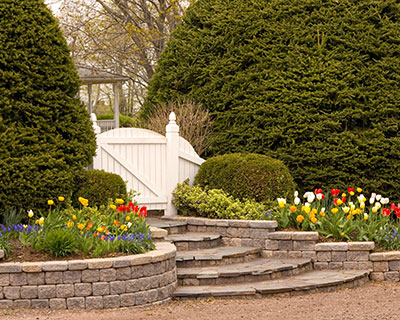 Every landscape is different, and the ground that it stands on can be unique as well. Before any kind of landscape installation work commences, it is important to ensure that the land is graded correctly. Improper grading or sloping land can create problems such as soil erosion and landslides which can damage the landscape as well as cause problems such as flooding and water accumulation.
These areas can benefit from the construction of retaining walls. Sometimes retaining walls are required to lend stability to multi-leveled and terraced landscapes as well. This is an expert's job and you need professional landscapers to construct these features. We at Nature Bros Landscape Maintenance can handle all your retaining wall design and installation needs.
As a company that has over 10 years of experience in this industry, we have all the skills, expertise and resources required to handle all types of landscaping jobs. Constructing custom retaining walls on properties in and around Salem, Turner, and Keizer, OR, has been a matter of pride for us.
Types of Retaining Walls
If you are looking for the top quality, resilient block retaining walls speak with our expert team today. The different types of retaining walls we install include:
Concrete Block Walls
Many retaining walls are made of modular concrete blocks. These fit in perfectly with each other to create a resilient and durable wall structure. Today there are a large number of retaining wall products on the market that emulate the look of brick and natural stone. This means you get the resilience of concrete and the rustic appeal of these natural materials. We use the best quality concrete blocks in retaining wall construction, so you are assured of features that would last for decades.
Boulder Walls
If you prefer more casual styled features, boulder walls are a great option. As the name suggests, these walls are made using large boulders that could be either mortared or dry-stacked. When experts like us handle the job for you, you can be sure that the boulder wall construction will be completed to industry standards. These walls have a very unique appearance and add beauty and value to your property. There are different types of boulders to choose from and we can help you pick materials that will enhanced the appeal of the other features in your landscaping.
Railroad Tie Walls
Retaining walls made using railroad ties can be a great addition to your landscape. These walls have tremendous character and are constructed using naturally old, discolored and rough-textured railroad ties. Construction of this wall requires skill and expertise, and we are able to design and build different types of railroad tie walls. Our seasoned retaining wall installers will prepare the ground to create a solid base before starting on railroad tie wall construction. We will also ensure that the drainage around these features is planned well in order to prevent deterioration of the wooden railroad ties.
For any more information about our retaining wall installation services, feel free to contact Nature Bros Landscape Maintenance at 503-602-3116. You can also connect with our team via this Contact Us form.