Lawn Care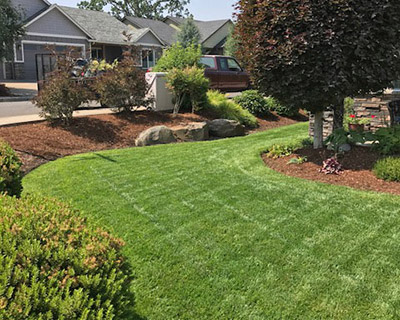 Lawn maintenance tasks must be handled by reliable contractors. If you hired inexperienced ones, there is a possibility that your lawn will not get its needed care. Your turf may not grow healthy or become susceptible to pest and weed infestations. Don't let these things happen by choosing the most trusted lawn care service provider in Oregon. Nature Bros Landscape Maintenance has been offering comprehensive landscaping services to residential and commercial property owners in the state. Most of our loyal clients come from Turner, Salem, and Keizer, OR.
If you reside in any of the areas we serve, please contact us. We assure you that you'll get your needed help with the range of services that we offer. You can get our premium lawn care service or opt for our comprehensive landscaping services that include design, installation, and maintenance. Call us at 503-602-3116 for your inquiries.
Professional Lawn Care Services
At Nature Bros Landscape Maintenance, every client is guaranteed of professional lawn care service. Whether you are a homeowner or a commercial property owner, we can take care of your lawn and maintain its beauty and functionality all year round. We also offer customized service to those who need only a particular service such as lawn mowing or weeding.
Moreover, our personalized approach to lawn care is one of the reasons why most clients from Turner and surrounding areas choose our services. Our maintenance personnel will make sure that every landscape element is handled with utmost care and various tasks are performed systematically.
Meanwhile, our lawn care services include:
Lawn mowing and edging. We can mow your lawn on a weekly, bi-weekly or at an agreed mowing interval. We have complete mowing equipment, so our crews can perform the task correctly and finish it promptly. We also recommend edging to enhance the appeal of your curbing and flower gardens.


Trimming and pruning. Your lawn will look neat if the plantings are trimmed on a regular basis. We can also perform tree and shrub pruning to improve safety in the outdoor area. Trimming and pruning are necessary to maintain the aesthetic appeal of your lawn.


Weed removal. Weed is a common problem of most Turner property owners. It is not only an eye sore but also affects the overall health of the turf and other plantings. And here at Rock Bottom Lawn & Landscaping, we use proven methods and techniques to control or eradicate these nasty weeds.


Lawn fertilization. This lawn care task is best left to the hands of professionals like us. We will create a custom fertilization plan that will address all the nutrient requirements of your lawn.


Aeration. This process will ensure the health of your turf by encouraging root growth. This will also enhance the turf's water and nutrient absorption, making it more resistant to pest and diseases.
We also offer other lawn care tasks, such as over-seeding, pest control, seasonal color flower packages, and yard cleanups. Just tell us your needed maintenance service, and we will send our best people to your location. Call 503-602-3116 now if you're from Turner, OR or nearby cities.