Mowing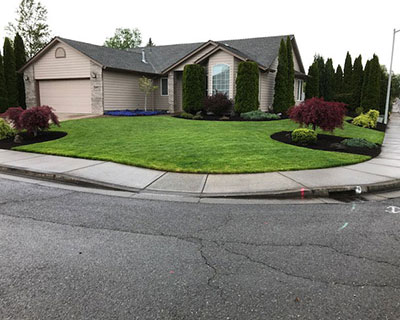 Anyone that has lawns in the outdoor areas of their property knows exactly how time consuming and tedious maintaining the feature can be. Many homeowners do turn mowing into a weekend chore and soon tire of it as well. The activity takes a big chunk out of your leisure time and eventually becomes a strain too. Commercial properties tend to have more expansive lawn spaces and that mean the job has to be handled by professionals. This is where we come into the picture.
We at Nature Bros Landscape Maintenance provide excellent weekly mowing services to customers in and around Turner, Salem, and Keizer, OR.
We are company that provides residential as well as commercial lawn care solutions and mowing is a very important component of any lawn care plan. In most instances we provide this service as part of a larger landscape maintenance project, but there are times when our customers want standalone mowing services and we provide those too.
Benefits of Mowing Lawns
As professionals that have been operating in this industry for a number of years, we know the nitty-grittys of maintaining lawns and adopt a very scientific approach to our work. There are many benefits to getting your turf mowed on a regular basis, such as:
Appearance - There is no doubt about the fact that lawn spaces that are mowed with regularity look neat and well-manicured. This adds to the ambience of the landscape and ups the value of your property as well.
Healthy Grass - While the appearance of your lawn is very important, the health of the grass is equally important. It's why your lawns have to be de-weeded and fertilized with regularity. Mowing helps keep your grass healthy and shorter grass blades act a deterrent for large garden pests, and this helps keep your grass healthy.
Safer Open Spaces - Grass that's mowed with regularity also has fewer weeds and this makes the spaces safer for your kids and pets to play in.
Cumulative Benefits - Regular mowing helps makes the new shoots hardier and healthy. The benefits of mowing grass are always cumulative in nature and when you hire professionals that tackle this job with consistency, you will notice a very positive change in the way your grass looks and feels and this adds to the beauty and charm of the lawn installation.
Organic Fertilization - When our personnel are mowing your lawns, they will deliberately leave the smaller bits of grass on the ground. This acts as compost and becomes a natural fertilizer for the lawns.
Custom Lawn Care Plans
We have the experience and the skill to provide custom mowing services and ensure that you get the kind of solutions you need at pricing that will fit perfectly into your budget. You can choose from monthly, quarterly and annual mowing packages. For any more information, simply get in touch with us at this toll free number- 503-602-3116 and discuss your project details with our experts.
"MORE ARTICLES"