Weed Control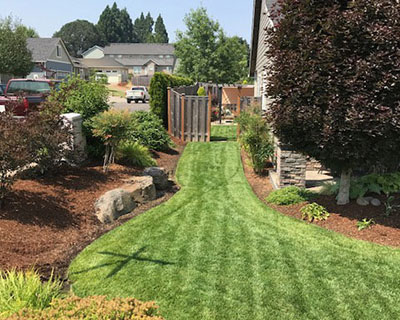 If you have open spaces on your property, you are sure to have some plantings there as well and would need a certain amount of maintenance and care. In addition to fertilization and watering and mowing and aeration (for lawns), it becomes important to ensure that there are no weeds growing in the landscaping. Most garden and yard maintenance plans have weed control services included in them. However, you can opt for these as a standalone service as well.
We at Nature Bros Landscape Maintenance provide custom weed control contracts to customers in and around Turner, Salem, and Keizer, OR. It's important to get the landscaping de-weeded with regularity as these wild plants have a way of cropping up without warning.
Our landscapers will visit your property at pre-determined times of the year and ensure that all the weeds are removed from your property. They will conduct a thorough check of all the lawn spaces and other softscaping to identify whether there are any weeds growing there.
Why Is Weed Control Crucial?
Not only do weeds make your landscape look unkempt, they also cause a lot of harm to the plantings. They use up all the water and nutrients from the soil and impact the health of the grass and other plantings. However, when you take certain preventive measures and opt for our specialized landscape weed control plans, you will find a sea-change in the way your landscape looks and feels.
We will carry out a pre-emergent weed control treatment in the winter. This treatment goes hand-in-hand with a fertilizer that's packed with nutrients and the application will be done every season. We typically included pre and post-emergent weed control services in our lawn management programs. These are specialized services and the type of treatment will depend on the type of plantings, grass and soil that exist on your property.
We are a company with a very solid horticultural background and have the skill, knowledge and resources to design and provide excellent yard weed control programs. Even as we provide excellent and effective solutions we are also highly mindful of the environment. This is why we make it a point to use organic products in this treatment. Not only does this benefit the environment, it also helps maintain the health of the plantings in your landscape.
Weed Control Cost
Weed control programs are always aligned with fertilization programs and we ensure that these services are matched perfectly to ensure the overall health and sustainability of your landscape. We have the experience and the skill to provide custom landscape care services and ensure that you get the kind of solutions you need at pricing that will fit perfectly into your budget.
For any more information, simply get in touch with us at this toll free number- 503-602-3116 and discuss your project details with our experts.
"MORE ARTICLES"