Seasonal Cleanup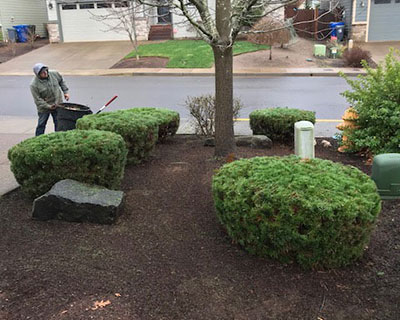 Your landscape is the backdrop of your home or commercial building; it adds to the aesthetics of the space and to the value of the property as well. But that's only if it is maintained well. Most property owners get their gardens and yards maintained by professional landscapers; but there are certain seasonal services that are equally important and leaf removal or cleanup is one of them.
We at Nature Bros Landscape Maintenance provide excellent leaf cleanup services to customers in and around Turner, Salem, and Keizer, OR. We are a company that has been operating in this space for a number of years and have the knowledge, experience and resources to provide the best services.
Commercial & Residential Clean-Ups
We cater to commercial and residential clients and know that every customer has specific requirements. This is why our company never adopts a cookie-cutter approach to our work and we make every effort to provide our clients custom leaf cleanup services.
Fall is one of the most beautiful seasons of the year and it's truly amazing to take in the view of the myriad-colored leaves on the trees and strewn on the ground. However, there are some cons as well. While the carpet of leaves on the ground may create a very pretty sight, the fact is that these leaves eventually mar the appearance of the landscape and will start rotting as well. This can severely impact the health of the plantings and grass in your landscape.
The best way to avoid all these problems is to hire us for leaf cleanup services. We cater to both, commercial and residential customers and focus on providing customized services that meet your requirements to the tee. While some homeowners do have leaf blowers for leaf cleanup, the task can be quite time-consuming and troublesome, especially if the weather is very windy. This job will also eat into your leisure time and it's much better to hire professionals for the job.
Leaf Removal Solutions
With years of experience behind us, and experienced personnel and the right tools and equipment, we are able to tackle this job in the best possible way at very competitive leaf cleanup cost. Not only will we clean up all the leaves from different parts of the landscaping, but will also cart away everything and dispose of it in a responsible manner. We focus on customizing our services and pay personal attention to our customers' needs.
We have the experience and the skill to provide excellent, prompt and efficient services. You will find our personnel to be very friendly and professional and they will work unobtrusively when they are clearing leaves from your landscaping. For any more information, simply get in touch with us at this toll free number- 503-602-3116 and discuss your project details with our experts.
"MORE ARTICLES"